BATTLEGROUNDS MOBILE INDIA

, the Indian version of PUBG Mobile, is now available for pre-registration.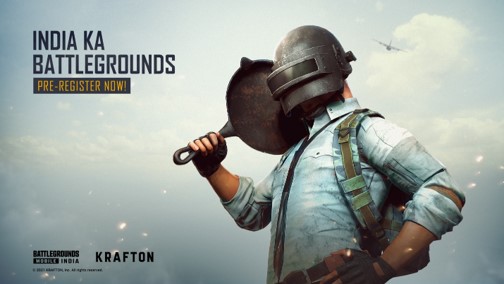 The PUBG Mobile went up for pre-registration on the Google play store on Android-certified devices on the morning of Tuesday, May 18. The interested android users can pre-register using this link- https://play.google.com/store/apps/details?id=com.pubg.imobile. (Yes, the URL has PUBG in it).
However, there hasn't been any announcement regarding when the game will be launched for iOS users, who have been taking to social media to ask about the same.
Meanwhile, android fans who pre-register for the game will be able to claim certain bonuses, which are only available to Indian gamers. The 4 amazing pre-registration rewards are the Recon Mask, the Recon Outfit, Celebration Expert Title, and 300 AG! These prizes will be instantly accessible to collect when the game launches.
The game has been developed by Krafton, a leading South Korean video game developer, that has been trying hard to re-enter the Indian market in the last few months after PUBG was banned by the Indian government last year as a part of its decision to boycott products with Chinese investment over data privacy concerns.
PUBG Mobile INDIA will only be available for download in India. The makers describe it as a battle royale game where multiple players employ strategies to fight and be the last man standing on the battlegrounds. The game will be a free-to-play, multiplayer experience, where gamers can play solo or as a part of a squad.
Krafton says the game has utilized the real-time 3D creation platform "Unreal Engine 4" to build a truly immersive experience featuring diverse maps with different terrains on a virtual setting augmented by 3D sound. The developers say that the game is "more than pure combat," as it is also a "battle of wits."
Also Read : Battlegrounds Mobile India launch Update
Visit https://www.battlegroundsmobileindia.com/ for more information about the game or its pre-registration bonuses, or you can stay tuned with us for the latest updates.